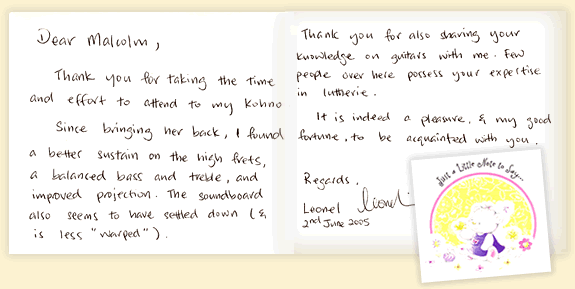 Hi Malcolm,
Apologies for the late follow-up!
The guitars feel, play and sound amazing, man. The Cole Clark sounds so much more different than before... it might be the strings, it most probably is the saddles, but suffice to say it sounds so much more inspiring to play now.
One thing I've clearly noticed is the increased sustain on my electric as well. Her low e is ringing like how low e's should ring! I am really, really liking the .10s - it has rekindled my love for D'Addario's. Thanks again for helping my unsettled mind settle on something for once.
I think thta your child-like curiosity in working on and perfecting guitars is really inspiring and amazing to see in person - I couldn't help but chuckle in my mind when you were fretting over the nut not being perfectly flush with the bass side of the neck. Perfection in motion, I'd say.
Thank you so much for your service.
Regards,
Redwan
Redwan Hamzah
Anyway, for fret work, I personally would state that the best man to do it here is Malcolm. He is totally passionate about the luthiery craft and takes great pride in his job and derives great joy in pleasing his clients. He deserves every penny and the clients always get more than the top dollar they spend on his proven expertise :)
embryo aka Randolf Arriola posting at S.O.F.T. forum
Hi Malcolm,
The guitar sounds good, as though its never broken at all. The finish is really great, the crack can't really be seen and your set up has made my guitar somuch easier to play now. Thanks so much for your help.
Nick, Gibson SG Special, Broken headstock repair and set up.
Hi Malcolm,
I can't describe how happy I am with my Taylor 214E after you've re-setup for me. It now plays like an electric guitar. All out of a sudden I make a big leap in improvement which I'm amazed...Million thanks!!
..after your set-up, practising become addictive and an obsessive compulsive behavior....thinking of playing it anytime and don't wanna put it down once pick it up.
Ben Liao
Malcolm works solo. His workmanship is top notch.
sepultura posting at S.O.F.T. forum
MT does a great job... yes, he had a look inside and cleaned up the electronics.
You're worth every cent, Malcolm...
jono007 posting at guitar4christ forum
Malcolm,
Thank you so much for setting up my strat kun.. it's amazingly nice to play now and makes me want to play even more haha.. it's really hard at first to believe that a setup can make such a difference in playing.. but now i'm totally convinced..
Kiyoharu posting at S.O.F.T. forum
Elo! Just to add my share of "MT" experience here. For me, it's not about how much the guitar cost, but how well it plays. If it doesn't play well, you're probably not enjoying it much and that'll result in less improvement when you practice.

Acquired an Ibanez Saber lately and the frets were buzzing (rattle?) quite noticeably at strange places (at the lower treble-side registers and higher bass-side registers and no, the neck is not warped). Playing open chords just drove me nuts. Tried to adjust the action here and there but wasn't quite satisfied, so I decided to seek expert help.

Well, sending my beloved guitars to a tech worries me, since that encounter at a local store ages back. I got a chipped neck for the nut change on my old Ibanez RX. Ok, cheap axe but I was still quite heartbroken (still a student back then). I mean, how can a nut change end up with a chip??? Obviously, the old nut was knocked out by brute force. No care was taken to loosening the nut any other way (there are better ways to do it). Or could it be 'cos it's just another one of those cheapo guitar, so they dun give a damn?

After hearing much about Malcolm years back (while he was still busy in China and HK, i think?), I've found Da Luthier next door! So this time, I've sent my Saber to him for an evaluation and basic setup. He's careful with his subject, laying her down on the carpeted workbench with the greatest care. Patient with queries not just about the work he's currently doing but anything else. He's one who bothers to educate when you have questions.

As mentioned, mine has a buzzing problem (seriously, I can't tell the diff between buzzing and rattling. Ha..haha... Sry! I just know my neck itches when I hear buzz). Malcolm did the neccessary prep work and then went on to diagnose/rectify the problem. The buzz problem was fixed with some fret redress, finger board was cleaned and polished. Along the way, he'll explain his findings and what he'll do to fix it. On top of that, he'll go the extra mile to clean up the contact areas (neck joints and such) and tighten every screw/bolt as neccessary. He'd even adjusted the pickups' height for me! Now the guitar plays great! The frets are even, action is nice, low but not rattling. Shiok!

Compared to other places, the price is higher, but I have no regrets paying for his service. I'm very happy with the results. He treats your guitar like his own. Highly recommended. What's more? You get to play thru his Reverend Goblin!
live33 posting at S.O.F.T. forum
Hey Malcolm,
I've just been playing my guitar, she is also called Syx, for a few hours and I can't express to you how delighted I am with your job. I've been re-motivated to start practicing like I had intended to again because of this, and this guitar has turned out to be absolutely perfect. You set out to make this guitar just like a Jem 7, and I think you did a better job than you were supposed to and I've ended up with something that is as amazing a well set up Jem 7, and better than most Jem 7's there are. Its better than any Jem 7 I've tried except for the inlay, but thats ok, and that is really something.
You were really quick to start and finish but your accuracy and care were not in any way compromised and the craftsmenship on the guitar is beautiful. My guitar is extrememly happy too, she plays like a happy guitar. I must also appreciate the fact that you informed me really carefully about every possibilty, disadvantage and advantage, and also only took on the job after you knew you could do it 100% safe and well. I also really liked the way that you only started after you were sure that I knew what was going on and what you'd be doing exactly.
Your tools are really something else. Accuracy and precision would be the words that come to mind. Ultra cool.
I also want to thank you for being really friendly, helpful, available to call and talk to at any time, and an awesome guitar tech. Your setup was also really cool, apart from your beautiful craftsmenship and work. Thanks a lot, I know for sure who to go to for anything to do with guitars in Singapore for anything. Even if you don't do something, you always know whether is an ok idea, who to go to and what to do. It was also cool to talk to you, you're really helpful and a nice guy. Thanks for letting me stay and talk with you and of course try my guitar and play for 3 hours the day I came to get the guitar. Syx is truly a Jem now.
Thanks a lot for everything Malcolm, and I'll see you on the sustainer

side. You might have just made me a guitar as great as Steve Vai's.
With many thanks,
Aman
Aman Khosla, Ibanez JEM555 neck re-carve, fret dress and set up.
Hey man,

Here's some feedback for you regarding the wonderful setup you did. :)

I'm very pleased with the way you handled the guitar, lots of care and attention, very nice. It really puts my heart at ease, I've seen techs grab my guitar (in the bag) and just swing (yes, swing) the whole thing by the neck into some corner.

In anycase, when I got the guitar back, first thing I noticed what how comfortable the action felt and how smooth the frets were. Then I noticed the lack of fret buzz! That was something I have lived with for some time. Then the tuning was great! Back home, I was playing all high up the neck and going crazy there. I used to always have this nagging feeling at the back of my head that my intonation ain't perfect (tried to do it right with the tu12) and it made me sort of hold back from going up the neck.

Tone wise, I think I do notice something. Yeah, you did lower the bridge pup but you lowered the trem too and I think the string distance to the bridge pup is almost the same as last time... but the difference isn't that. I think its the thinner frets or the better intonation or the lack of buzz. Its SOMETHING alright. The tone of the guitar sounds more... there's more snap to it when I dig in. Its very obvious and I love it, very Paul Gilbert. Then for the high up (frets > 12) playing, the neck pup sings clearer and seems to breath better. No buzz there. And just recently, 2 hrs back, I played with the neck pup high up and that tone sounded FRESH!

All in all, I really like the playability. Oh yeah, the trem being stiffer? Its okay, I actually find it nice. Also, you were saying that there would be less/no flutter? Its still there. :) A little less but yeah, its all I need.
Daniel Tan aka shredcow at S.O.F.T. forum, Ibanez S520EX refret.
Malcolm is really the best person who does setup here in SG in my opinion. Both my Gibson and Ibanez has been setup by him, and he really knows what he is doing. Abit more expensive? Yes. The work he does is immaculate and I have no worries on my guitar being messed up, dinged up or anything. Action is low without buzzing while still retaining the volume of the guitar. I have had experiences where I paid a hefty sum and my guitar was shoddily setup.

Lifehouse posting at S.O.F.T. forum
hey malcolm,

just a note to let you know that the goldtop is amazing! after dinner at my folks yesterday i spent about an hour just feeling how amazing she is to play, n how fat yet clear yet rich the tone is, clean and distorted. i have owned this guitar for a long time and SHE HAS NEVER PLAYED OR SOUNDED LIKE THIS. NEVER!!!!!!!! thanks again man, you've done an outstanding job!
<![if !supportEmptyParas]><![endif]>
okay malcolm,
i can happily report that i have spent the week playing the hell out of the gold top, and after yesterdays rehearsal for next weeks gigs, i havent busted a single string yet! plus the guitar gets greater sounding and playing by the day(the tone from the goldtop is fatter yet just as clear as my custom with seth lovers! fatter! especially the single-note leslie west style riffs! clapton cream era fatness with a flick of the tone knob! unbelievable...).
<![if !supportEmptyParas]><![endif]>
the guitar is perfect. it still plays and sounds like a dream, its like i have a new guitar! : ) its no longer the mushy muddy beast it was, the notes are clear yet fat and ring like a bell when clean,the sustain is seemingly endless, it rings so well acoustically(unplugged, its my loudest guitar) and all the problems with the high E string spacing have disappeared! i can't be happier!

Noel Ong of Ugly in The Morning, set up including new bone nut.
<![if !supportEmptyParas]><![endif]>
Malcolm - just a line to thank you again for your work on the Martin.
I played it hard last night for two sweaty sets and the guitar sounded fabulous. The sound was marvellous, the guitar was a dream to play and when I got it home and took it out of it's case, it was still in tune. I feel that's a testament to your work as much as anything else.
Gerry's comment at the end of the night was: "That guitar sounded great through the PA...it sounded just like a Martin". Can't say fairer than that. I was delighted with the way it sounded and played. String balance, action... the whole thing was resonating properly. So thank you, again.
Robert Lloyd Barlett, Baggs Element Active System installed on a Martin 0000-16.
Dude the guit is awesome the best i've heard no need to eq much yet its so full and evenly balanced thanks man God bless, =)
Matthew, L.R. Baggs iBeam Active pickup installed on a Santa Cruz Tony Rice Model.
Hi Malcolm,
I'm truely thrilled with the guitar. The playability has improved tremendously. Not only is the volume louder but the sustain was great too. The action was great, I can now manage most of the difficult move which I face difficulty previously. Can't wait to restring the guitar with Savarez Corum.
Willie Yap, Replaced Brazilian Rosewood bridge on a Vincente Carrillo Classical guitar.
Hi, im gonna bring this old thread up because i just got my guitar setup by Malcolm (EMPT71). He charges $120 for a setup on a non floyd bridge. I was thinking to myself, most shops do a setup for $50, why do i have to pay so much? In the end i took the "risk" after reading his profiles and im not disappointed. Oh and for the record, im not ranting just because i already paid thr $120. Heh
1.He sets up the guitar right in front of you and tells you what he is doing
2. He seeks your opinion on things that i personally never knew were part of a setup. Eg. Whether for a vintage trem, the brigde should be set floating or flat. And that the height of the strings are supposed to conform to the radius of the neck.
3.Ive never seen other guitar techs work but he is totally meticulous in his work and i learnt a lot of things
4. He spent 4 hours on my guitar including the installation of a new pickguard and pickups and we ended at 12 midnight. Thats dedication for you. Of course i was more than willing to watch him complete it.
The bottom line. if you want to get your guitar setup but ure short on cash, save a little more and take it to this guy. You know what ure getting and wont come home unhappy with the guitar as he really makes sure ure satisfied with it. If i could choose btwn plugging down $120 on a new effetcs pedal or a setup, id go with the latter. After all, your primiary tool for making music should be good before you add extras
Im saving and brining my Floyd Kh2 to him really soon!
Gargamelesp posting at S.O.F.T. forum
Well , just a field report here... brought my strat to Malcom yesterday ... when i got home i played and played for what i tihnk is 3-4 hours...
wanted to see if the setup would "go off" im not surprised it didnt budge.
And my strat plays effortlessly now... learnt a thing or two about guitar maintenance as well.
money well spent.
guys who dont mind paying a premium for prompt service and excellent workmanship should seriously consider malcom.
malcom is the jedi master of setups man...
yup. malcom and only malcom will setup my guitars.....
i kinda know how to do it.... but whats the point if i cant do it as well as him. Leave it to the guitar setup Jedi master
Chan Min posting at S.O.F.T. forum
malcolm is one of the most sought after luthier in singapore, but he is often away from town...kinda difficult to contact him...but he's good...
taylorfreak posting at guitar4christ forum
Yo people
Just wanna share my experience with Malcolm..Guitar Tech Jedi Master
.
My guitar is a Custom Strat made frm various parts (WD, Musickraft, Kent Armstrong). Birdseye maple neck with ash (transparent blonde color) body.
The set-up by the first guy (paintwork was ok but he did'nt use filler for ash body) was'nt impressive. Buzzing, improper bridge adjustment, the tremolo claw screw was slanting etc. Big mistake !!! Dun wanna take the risk of ruining my first custom guitar, I gave Malcolm a call etc...
That's where the transformation began......Malcom gave so many pointers on wat goes wrong & he even advised to go back to the first guy !!!
Left the guitar for one day at Malcolm's place & that baby of mine played like DREAM!!!!!!!! He custom made the nut (Micarta), added shin to the neck , levelled the frets, re-adjusted the bridge , claw screw etc..the rest was HIStory. The neck was straight like an arrow, ultra low action without buzzing!!!
Thank u sooo much , bro!!! A first class luther workmanship!!!. I dun mind the bill cos it's really worth it. Great attitude too. If Malcolm opens a guitar shop, I'll be the first to send my guitar back for refinishing job.
Highly recommended!!!
The price may seem a bomb but definately worth it. As one of u guys pointed out, some guitar repair guys either hit or miss..but never Malcolm.
One thing which set him apart frm the rest is his attitude plus super workmanship of course. I've send guitars to Guitar Workshop, Dino of Swee Lee, Beez, Phillips of Hougang, Musicfactory etc.... Malcolm is the best. He willingly shares wif u abt every aspects of the set-up, how to see un-even frets, etc.
Save up a bit, just send ur precious guitars to him .
I'll post some photos of my baby soon.
See Ya Somewhere,
Musically,
Jay_Clones posting at S.O.F.T. forum
Malcom's a real guitar luthier.
Charges are according to quality. Not cheap man, not cheap, but hella good.
ShredCow posting at S.O.F.T. forum
Yea man. Sent my guitar to him too. he works magic. didnt think the setup wld make a lot of difference.....i knew it wld make a difference lah.....but after he set it up...it made a hell lot of difference! cldnt believe i was playing on that guitar b4 the setup and thinking it was ok! definitely worth the money. the best of the best. can;t get better than that. it'll be really really worth it.
dric posting at S.O.F.T. forum
you get what you pay for i guess. malcolm is sg's only real luthier i guess. the rest sometimes hit, sometimes miss. malcolm never misses the target, hehe. someday, i will also send my precious guit for a proper setup with da man!! Hehe
fibredrive posting at S.O.F.T. forum